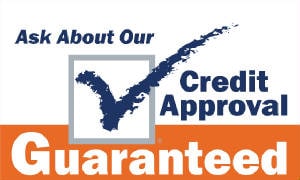 First time buyer, bad credit, no credit -
WE CAN HELP
with Guaranteed Credit Approval through Credit Acceptance.
Don Marshall has been the leader in special financing for the past 18 years! We've gotten more people with credit problems approved than any other dealer in Central Kentucky! Don Marshall is proud to be able to assist people with getting the financing they need for their next vehicle. Credit issues are becoming more common in today's economy, and we are here to help people with either no credit, or damaged credit. We guarantee credit approval for everyone through Credit Acceptance, Corp, r
egardless of of your situation.
Even if you have been turned down before, you have a second chance with Don Marshall Auto and Credit Acceptance.
With Credit Acceptance financing, you can drive a new, dependable vehicle - while building or repairing your credit. Unlike the buy here-pay here lots, Credit Acceptance reports to the major credit bureaus as you make your timely payments.

We hope you will stop in and talk to one of our staff about your credit concerns, and let us show you the steps to building or rebuilding your credit score. You can fill out a credit application on-line or call us at 606-678-8178 today. We help people!